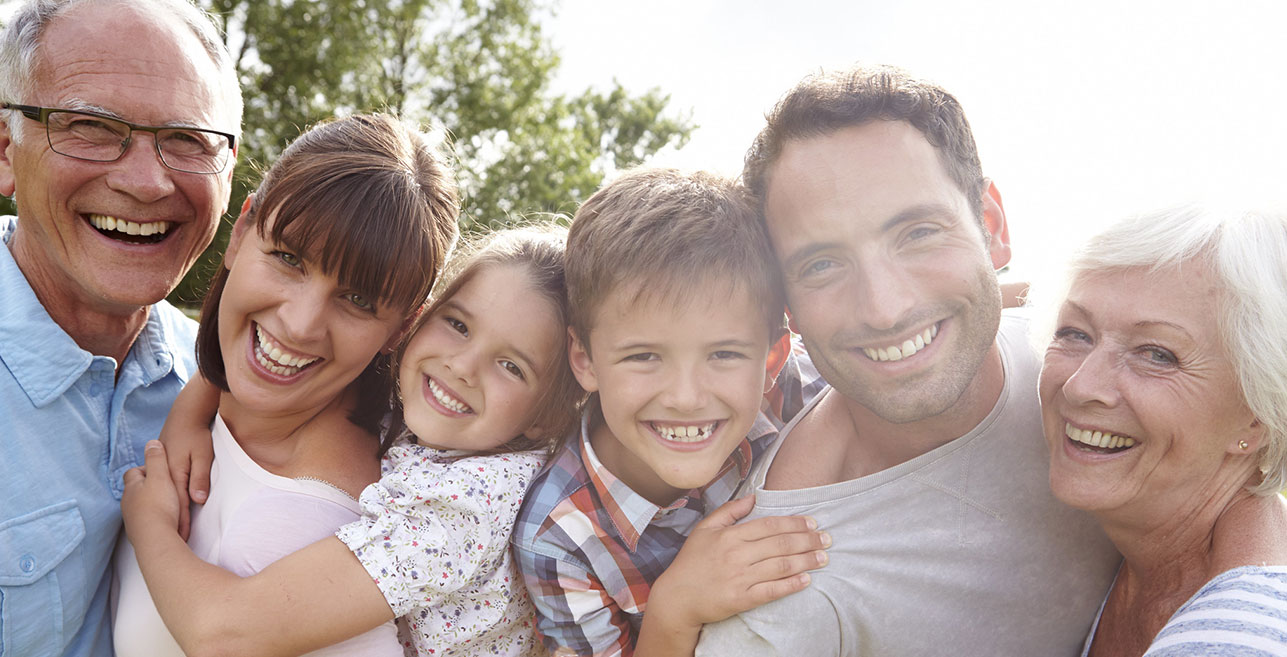 Missing All Upper or Lower Teeth
Implant-supported dentures are over-dentures fixed to the gums by mini implants. If you have uncomfortable or loose-fitting dentures, stabilizing it with mini implants can be a more comfortable and functional solution.
Mini implants are placed in the jaw where they heal firmly in place by the surrounding bone. Attachments are placed in the underside of the denture that connects to the implants. When placed in the mouth, the denture snaps onto the implants, keeping it stable and secure.
What are the benefits of implant-supported dentures?
If you opt for implant-supported dentures, you may be more confident when you talk, laugh, and eat in public. You'll never have to worry about your false teeth slipping or falling out while you eat or are engaged in conversation.
Implant-supported dentures are far more comfortable because they are secure and feel like natural teeth. There is also less irritation of gum tissue as pain and canker sores are common problems for patients with conventional dentures.
Implant-supported dentures look more natural than conventional dentures because less plastic is needed for retention. Wearing implant-supported dentures can also help your appearance in the long term by preventing jaw shrinkage and bone loss.
If you have conventional dentures, you may have difficulty with speaking clearly, as slurred speech and clicking noises are common problems. Implant-supported dentures can help you relax and talk easily with a more clear and natural voice.
Best of all, with implant-supported dentures, there is no need to use denture adhesives.
Missing All Lower Teeth
Although many patients have no problem wearing an upper denture, some people find it difficult to wear and eat with lower dentures. Several implant-supported replacement options are available if you are missing all of your lower teeth.
Ball Attachment Denture
One option is to have two implants placed in your lower jaw and a denture made that snaps onto these implants. This option allows your lower denture to be more stable while chewing than without implants. However, there will still be movement of your lower denture, and sore spots will occur if any food particles, especially seeds, are caught under it. As with all removable replacement teeth, you still will need periodic appointments for denture adjustment.
Bar Attachment Denture
Another option involves placing four to six implants, depending on your jaw size or shape, into your lower jaw. After healing is complete, the implants are connected with a custom-made support bar. Your denture will be made with special internal retention clips that attach to the support bar, enabling the denture to snap firmly into place. This is called an "overdenture." The advantage of this option is that it is much more stable than the first option and allows very little denture movement. Your denture is still removable for easy cleaning and maintenance.
Screw Retained Denture
A third option involves placing five or more implants in your jaw and attaching a permanent denture. Your denture is held in place by screws or clasps that secure it to the support posts or bar. It doesn't touch the gum tissue, which allows you to clean under the denture without removing it. This denture will replace all your missing lower teeth and will not be removed except at maintenance visits. Although cleaning under your denture without removing it is more time-consuming and requires more dexterity, many patients who want a permanent denture prefer this option.
Individual Implants
The final option is to have all your teeth individually replaced so that they will appear to be growing out of your gum tissue and will most closely resemble the appearance of your natural teeth. This option usually requires eight or more implants. Separate abutments or support posts for each one of these implants will be made and crowns for each missing tooth will be placed. The teeth are often joined together for sinus grafting to replace bone height strength and support. Overall, this is the most costly option, because it requires the most implants and individual replacement tooth fabrication. Your replacement options may also be limited by the current size and shape of your jawbone.
Missing All Upper Teeth
A similar range of treatment options is also available for your upper jaw. However, because the bone is not as hard as that in the lower jaw, people often need more implants to support their new replacement teeth. Depending upon the number of implants to be placed, it may be possible to eliminate the need for covering the roof of your mouth with a complete denture. This option allows you to fully taste your food and gives you a better sense of its temperature. Your denture will feel more natural. You will still have a removable denture, which makes cleaning the support bar and denture much easier.
Implant Retained Upper Denture
Depending upon the number of implants to be placed, it may be possible to eliminate the need for covering the roof of your mouth with a complete denture. This option allows you to fully taste your food and gives you a better sense of its temperature. Your denture will feel more natural. You will still have a removable denture, which makes cleaning the support bar and denture much easier.
Individual Upper Implants
If you want a restoration that is similar to your natural teeth and therefore not removable, you probably will need eight to ten individual implants placed. This is followed after healing by the placement of the abutments and new replacement crowns.
An Implant Supported Overdenture
An Implant Supported Overdenture is a contemporary restoration that has revolutionized the way surgeons and dentists think of replacing a full set of teeth. Standard dentures are unsecured prostheses with inherent limitations. Most often, dentures are painful, inconvenient, and unstable. Such dentures can make chewing foods difficult, limiting the foods that you once enjoyed. Modern dentistry can help with implant-supported dentures.
The Implant Supported Overdenture treatment concept replaces your missing teeth with a full dental bridge supported by dental implants. Fewer implants are needed and overall treatment time and cost is reduced. An Implant Supported Overdenture solution also ensures greater stability in the bone, reducing the need for bone graft surgery to increase bone volume. Implant-supported overdentures stay connected with bar and clip attachment methods or use a variety of abutment-based attachments (ball, magnets, and resilient stud attachments such as Locators). The most appropriate attachment system for your individual needs relates to a variety of factors that is determined early in the treatment. Typically, a temporary set of teeth can be placed on the same day of surgery. The temporary teeth allow you to lead a normal life immediately after surgery. After a short healing period, your dentist will place the final bridge. Your quality of life is improved, and you can start enjoying your favorite foods again with renewed confidence.
Advantages of Implant Supported Overdentures
A cost-effective solution. When compared to some other implant-supported restoration methods, your new replacement teeth require fewer implants for each jaw. With fewer implants required, the cost is lowered.
Reduced need for bone grafting. The special angled placement of two of the implants ensures a secure and stable anchorage for the replaced arch, often making bone grafting unnecessary.
Faster treatment and healing time. Your replacement arch can be attached to your implants immediately after insertion.
Scientifically proven and documented. Implant Supported Overdentures have had good clinical outcomes from decade long studies with favorable results.